Big Brother 9 Finale Live Show Spoiler
& BBDish Prize Winners
A note: Because there are so many comments on this post, in order to see all of them, you must use the navigation tools just above the first comment... you'll see "Newer" and "Newest" or "Older" and "Oldest."

Click on those to see more comments. :)
Here we go!!
Julie
: It was 81 days ago when 16 men and women walked into the Big Brother House. Now, only 2 remain. Who will win the 1/2 million dollars?
Recap VO Guy... the entire season in 5 minutes or less, minus any reference to the debacle of an America's Choice vote...
And that's over with. back to the studio. Host away, Mrs. Moonves.
We'll be voting for our favorite juror... on cbs.com.
Here's the link:
VOTE for Your Favorite Juror NOW
And on to the jury talking with each other... then Sheila walks in and the jury learns it's Ryan and Adam for Final 2. Sheila tells the jury that Adam threw the final comp so Ryan would get her blood on his hands. The jury seems to be leaning towards Ryan in this edit.
Jury Q n A...
Matt
: Whatta you gonna do with the money, Balla?
Adam
: Charity and business start up money.
Matt
: Same question to Ryan.
Ryan
: Help mom... Something nice for Jen and myself... and definitely put something towards charity... Just the best I can do with it.
Joshuah
: That was the worst answer ever.
Sharon
: Ryan, what was the point of feeding me all that bull?
Ryan
: I fought for you all week, and it was a very last second thing. I was not gunning to get you out... I wanted you to stay.
Chelsia
: Why should I give you 500k when you're gonna spend it on someone who called you out on national tv as a "hatred person."
Ryan says he loves her...
Josh QnA, James QnA... Natalie QnA... Sheila QnA...
Ryan & Adam do their speeches...
Incidentally, everyone is having issues with the voting on CBS... I believe it is actually working. It's just not showing results.
The jury is about to cast their votes. The votes are concealed from the tv audience. The jurors are allowed to make a closing statement to either of the HGs.
Matt
votes first, and tells the boys they're taking him to Vegas.
Natalie
- I love you both. Going with my gut.
Joshuah
- I'm going to vote for the person that played hard in every comp and has a backbone.
Sharon - Decision based on who I felt was the most loyal in the game.
Sheila
- After the round-table, this is a very easy decision to make, and I hope that honesty, loyalty and trust have something to do with this.
James
- "I hope you party away this money."
Chelsia
- I hope you guys hold to your end of the deal.. what you said at the round -table.
The votes are now locked...
Next up, the first 6 evictees reunite with the Jury.
And Julie sounds like she's about to run a tape with all of Matt's bragging about the ahem.. activities. Oops. No. Maybe not. The TV Only audience was never informed of all that anyway... Why start now?
She goes to Jen, who says she still doesn't like Allison, because of things she said. Allison, however, takes the high road.
Julie busts Adam in front of Ryan for whispering to Natalie that he voted for her. She also shows Adam the tape of Joshuah's DR, with him talking about crying on cue being very easy for him.
Julie's about to reveal the Votes to Win...
Matt - Adam
Natalie - Adam
Joshuah - Ryan
Sharon - Adam
Sheila - Adam!
It's Ovah!!
For the Record... James & Chelsia also voted for Adam.
Adam is the Winner


of Big Brother 9!!
Julie
: Who is America's favorite juror? Find out when we come back! (from commercial)
Sheila came in 2nd. America's favorite juror: James!
Adam just made a very public declaration: $100,000 to an Autism Foundation.
Last on the agenda for tonight... We have some BBDish Prizes that need to be awarded... On the night we passed 5 million hits here on the blog, I said I was having a blogger appreciation prize giveaway of the winner's choice of mug.
Well, 5 million hits (now closer to 6 million) certainly warrants more than 1... so I decided to go with 5. Everyone who emailed that day got a message from me yesterday - well over 2000 of you...
All the winners were notified by email earlier today... 3 have responded and had their mugs sent already. 2 I'm still waiting on. Check your email!
Easier if I just say the names, huh?
The names of the winners are:
BeccaW.
LizG.
DebiW.
ChristineW.
LisaM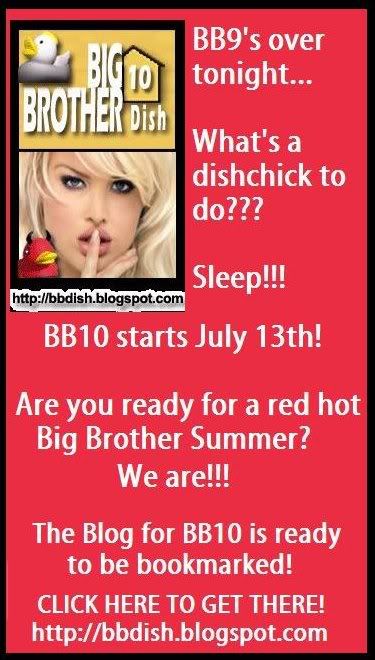 ♦Digg it ♦del.icio.us ♦Add to Technorati Faves
Click here to return to the top of the blog